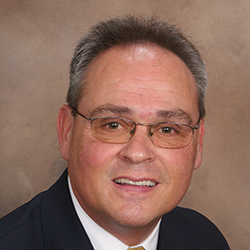 Bob currently serves as Director, President and Chief Executive Officer of Community Bankers Association of Ohio, CBAO Service Corporation and CBAO Insurance Agency, Inc. He is also manager of Community Bank Insurance, LLC and co-manager of Community Banking Initiatives, LLC. He is a Professional Insurance Agent holding active major and limited lines insurance licenses in Accident & Health, Casualty, Life, Property, Variable, Credit and Crop in Ohio.
He graduated Valedictorian of his 1972 high school class. He received his Associate of Science Degree in Banking & Finance from International University and his Board of Regents Bachelor of Arts Degree in Banking & Finance from Fairmont University.
Bob is a graduate of the Stonier Graduate School of Banking, the National Consumer Credit School, the BNY Mellon Commercial Lending School, National Mortgage Lending School, and the West Virginia School of Banking. He was awarded the Basic, Standard, General and Advanced Banking Certificates from the American Bankers Association (ABA) in Washington, DC and has served as an Adjunct Professor for Bank Administration Institute (BAI), American Institute of Banking (AIB), colleges and universities.
He also served as fellow and instructor for the Bank Sim and Bank Exec computer simulation games. During his career he has been involved in seven mergers and acquisitions, successfully leading the integration team to maximize profitability while limiting cultural disruption.
He has been employed in the community banking industry for more than 43 years, having held positions as Director, President, Chief Executive Officer, Regional Executive Vice President, Executive Vice President, Regional Vice President, Senior Vice President, Senior Lending Officer, Vice President, Cashier and Assistant Cashier. He has served as President and Chief Executive Officer of two community banks, one of which he was the founder, on four community bank and three community bank advisory board of directors during his career. He has been a guest speaker at numerous civic organizations, shareholder, and director meetings.
Bob has facilitated strategic planning, Board of Director Self-Assessment, and CEO Evaluation for community banks of different charter types, publicly listed, and closely owned institutions.